Craig Brenner: Exploring the Jazzy Side of Blues & Boogie Woogie Piano
"Craig Brenner is a fine and funky pianist..." - Living Blues
Blues, boogie woogie, and jazz pianist Craig Brenner is a composer, teacher, and recipient of multiple arts grants.  Craig leads Craig & The Crawdads, is in The Ragin' Texans, has seven albums, and founded Bloomington Boogies: The Bloomington Blues & Boogie Woogie Piano Festival.
Craig's latest album is Passages.  Other recordings include 
Live to Love, by Craig Brenner & The Crawdads
Live at the Old Mint: Blues and Boogie Woogie Piano, with Alfred "Uganda" Roberts and Lori Brenner
Window on the Soul, with Craig & The Crawdads
Man at the Piano, with The Crawdads and special guests
Backstage Boogie, with Dan Hostetler on drums
Play It Again, Professor!, with The Crawdads and special guests 
CDs are on sale!  Listen to samples and purchase CDs at Music. 
Sheet music for piano is available for many of Craig's original compositions, including "Life Is Precious" (from Passages) and for "Opus 3 Number 6: Perusin' the Blues in C" (from Man At The Piano)!  Contact Craig for information or to purchase.
Passages is available on vinyl, CD, & files for download. 
More reviews at Music. 
Listen to "Looking for a Job," produced by Nate Brenner (Tune-Yards, Naytronix).
Now available again (CD) - Live to Love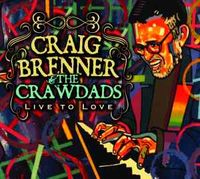 Due to COVID-19, musicians lost considerable revenue. Make a donation.
Click below for information about
Craig Brenner   Boogie woogie, blues, jazz, stride, New Orleans, and barrelhouse piano
Craig & The Crawdads   Foot-stompin' New Orleans R&B, Zydeco, blues, jazz, and swing
Craig & Lori   Cocktail jazz, blues, swing, torch songs, and boogie woogie